Today's guest post is brought to you by one of the friendliest people I've ever "met," Holly of So Dang Brilliant. (You can learn more about her in her
Geek of the Week
post.) Thanks so much for doing this, Holly!
Hey all. This is Holly F. from
So Dang Brilliant
, and I'm here to tell you about my obsession:
A Capella music.
I know what you're thinking.
Nerdy
or possibly
Outdated
or even
Barbershop Quartet
.
You are totally right. But I'm still a fan.
Lately, I've been loving the a capella group
Pentatonix
; they won the third season of the NBC show
The Sing-Off
, where a capella groups compete for a record contract and hopefully become famous. They do covers of pop, dubstep, and hip-hop songs—all of their music is really loud-speaker worthy.
I went to see Pentatonix
in concert
on Memorial Day of this year. My cousin Ben went with me, since he's also an a capella nerd. We completely geeked out and loved every second of it.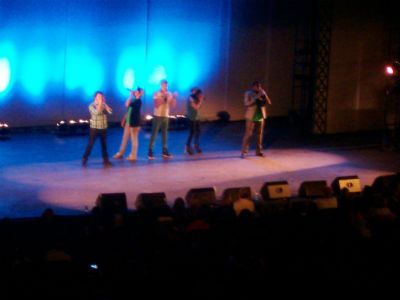 If you have never encountered a capella music, you should take it out for a test drive by seeing the movie
Pitch Perfect
, which just hit theaters.
Starring Anna Kendrick, the movie effortlessly pieces together the tropes of a freshman in college trying to "find herself," along with featuring some kick-butt a capella music. And there is music for all tastes—Ace of Base, Madonna, BlackStreet, the Bangles, and Simple Minds!
I've included a little teaser to entice you.
I don't want to frighten you, but I came straight home from seeing this movie and spent $9.99 buying the soundtrack. That might happen to you, too. In fact, I hope it does.
Holly F. writes about staying smart, staying sharp, and staying at home at So Dang Brilliant. If she were to get to know you, she'd no longer be afraid of strangers; or at least, you would no longer be a stranger and she wouldn't be afraid of you.